THE WORLD WAR II
U.S. MARINE RAIDER STILETTO
* * * * * * * * * * * * * * * * * *
Brought Back In Honor of the
75th Anniversary of the U.S. Marine Raiders

* * * * * * * * * * * * * * * * * *

Historically Correct; Authorized by the U.S. Marine Raider Association;
A Portion of the Proceeds from Each Goes to the Association.

* * * * * * * * * * * * * * * * * *
This 1942 Model WasThe First and Only Fighting Knife
Designed by a Marine, for Marines –For the U.S. Marine Raiders!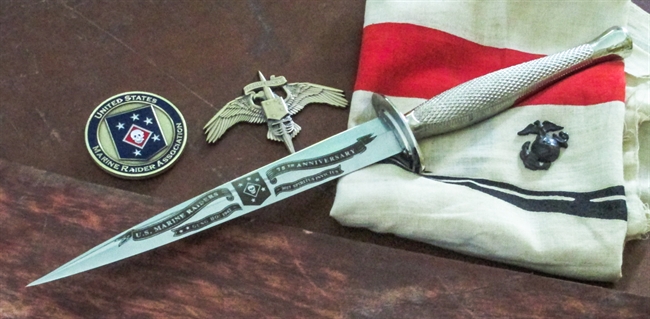 In early 1942, a nucleus of Marine Raiders from both coasts was sent to Britain to train with the British Commandos and to bring back their fighting skills and to be the training cadre for the Raiders. While in Britain, they trained with the widely honored and admired British Commando Knife – called the Fairbairn-Sykes Fighting Knife.

At the request of these Raiders, Lt.Col. (later Brig.Gen.) Clifford H. Shuey, USMC, redesigned the British F-S for American production and initiated its making for and issuance to the U.S. Marine Raiders. It was called the U.S. Marine Raider Stiletto.

During World War II, the Marine Raider Stiletto was used by Raiders both in combat and as a design element in various unit and individual symbols. Today it is central in the respected U.S. Marine Raider Training Center graduation award, a daily reminder to today's Raiders of their glorious World War II Raider heritage.

Also, today, this is one of the rarest and most valuable military fighting knives in existence – even rarer and more valuable than the early British Commando F-S Fighting Knives that inspired them! Further, by comparison, about 175 to 200 times as many of the M4 Trench Knives were made for the U.S. Army, versus Raider Stilettos. No wonder they are highly desirable among Military Knife and Marine Corps collectors.

None are found in collector "excellent" condition; the war and time took their toll, And in collector "good" condition the going rate is $2,500 and up. The currently available 75th Anniversary U.S. Marine Raider Stiletto provides a rare opportunity to own a "Blood-Brother" to the original, in "new" condition, and at about one-tenth the price of an original in very good condition, if you could ever find one for sale, while helping to support the U.S. Marine Raider Association.
* The hilt of each Stiletto is cast of a half-pound of fine Pewter, which has been used for centuries in many knives. It will not crack or flake off, as the wartime Raider Stilettos do – those hilts were cast of an inexpensive, then-experimental Zinc-Aluminum alloy, which failed over time.
* This is the first time in history that this-style blade has ever been made of Stainless Steel, for long-term quality and beauty, with little maintenance. Double-edged, these are forged, hardened, tempered, hand-ground, sharpened and mirror polished in Sheffield England, by a wartime supplier, where original British Commando/F-S Fighting Knives were made. They are both battle-worthy and presentation quality.

*The Special Edition Marine Raider historical inscription is custom etched across the blade.

*On the blade reverse, custom etched are the trademark of H.G. Long & Co. of Sheffield England (established in 1847) and the Limited Edition Serial Number.

* A Certificate of Authenticity, signed by the President of the U.S. Marine Raider Association and the President (and Honorary Raider) of Historical Associates, is numbered to match your Limited Edition Stiletto and included.

• Two Limited Edition Models Authorized:



*The Nickel-plated Edition (above): Hilt polished and plated with gleaming genuine Nickel-Plating, to Firearms-Grade thickness and quality. This is a Limited Edition of 100. Serially numbered 001 through 100. Price: (No longer available)


* The World War II-Type-Finish Edition (above): Hilt darkened, highlighted and powder-coated clear-coat finish. Limited Edition of 300. Serially numbered between 001 and 300. Price: $259.

• Field-Grade Edition: A Field-Grade Edition is also available. Price:

(No longer available)

.
The blade is etched with your choice of:
* The original, wartime foliate "U.S.M.C." banner, or
* The foliate banner that reads "RAIDERS"
This is available in choice of hilt colors (heavy-duty powder coated):
* Tactical Black, or * Desert Tan, or * Olive Drab.
(No longer available)


Optional Display Case: $64 ($59 + $5 additional Shipping).
American Dark Oak, with locking glass lid and wall mounts, for proud display in your home, office or War Room; 6" x 16" x 2". The liner is draped in Marine Corps Scarlet, to secure and protect your Marine Raider Stiletto.

* Allow six to eight weeks for delivery.

*Shipping: UPS (at cost); please add:
UPS within CONUS/48 -- $15. APO if deployed/in theater -- $10. Outside CONUS/48, by Post Office -- $50.

* Checkout is through PayPal, you do not have to have a Paypal Account to pay with a credit card or debit card, just click "Checkout" in the shopping cart, and pay by credit card on the next page.

* Taxes will be added for items shipped to Virginia.
Deliveries within Virginia (only), please add 5.3% sales tax.

***Total in Paypal will recalculate after you imput your address.